The Judgement of Acton
It's back! Our last wine tasting of the year is a festive Judgement of Acton. 
You'll get to blind taste seven premium wines that we think will be brilliant with a Christmas lunch. And then we'll reveal the country, the region and the grapes.
Between the pours we'll have a quiz and everyone who comes to the tasting will be in with a chance to win a magnum of Chianti Classico.
Get Your Tickets Here
Usual Opening Hours
We are a tiny wine shop and early evening wine bar We also sell online with click and collect, free local delivery, courier delivery options available at checkout.
Also there's 10% off any 12 wines (in store and online). Our shop opening hours are:
Wednesday - 12pm 'til 9pm
Thursday - 12pm 'til 9pm
Friday - 12pm 'til 10pm
Saturday - 12pm 'til 9pm
Sunday: 12 pm 'til 5pm
Monday and Tuesday: CLOSED
Why Not Visit Our Online Shop?
Ten Years On Churchfield Road!
This April we celebrated 10 years on Churchfield Road. From Opening as Park+Bridge in 2013, to then opening Vindinista as a bar in 2015 to finally becoming the hybrid shop and bar we'd always wanted in 2019.
We're still true to our W3 roots: We STILL love great wines and we're really happy to share them with you.
Many thanks to everyone who has supported us over they years.

The Vindinista Team
However you say it...
We are an award-winning, neighbourhood wine shop and early evening winebar that's been selling great wines to the good people of Acton for more than ten years now.
Whether it's English fizz, natty orange or just something classic to go with lunch, we've got you covered.
Want to be the first to know what we're up to? Sign up to our newsletter.
Need a table? email us a hello@vindinista.com
Can't make it to the store? Try our online shop.
Click Here To Buy Online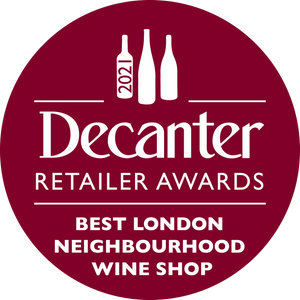 Decanter Names Vindinista "Best London Neighbourhood Wine Shop Of The Year"
Your favourite little-wine-shop-that-could is Decanter Magazine's Best London Neighbourhood Wine Shop of the Year 2021. To say we're chuffed is an understatement...especially as no one won it in 2022. (And we haven't re-entered since we won it.)
A huge thank you from the Vindinista team to everyone who shops with us.
Wines (And Other Things) You Can Now Buy Online...
Vindinista
74 Churchfield Road, Acton, 
W3 6DH
07513 920293
Usual Opening Hours
Wednesday: 12 - 9pm
Thursday: 12 - 9pm
Friday: 12 - 10pm
Sunday: 12 - 5pm
Monday + Tuesday: CLOSED